#3 had another game last night.

They came from behind to win by 2.

Apparently those shirts that tempt you to the dark-side with cookies are a bigger threat than I thought because his coach told them that if they didn't pick it up in the 2nd half there would be no cupcakes.
I'm supposed to write about TV today but I don't feel like it.

I started working on a short story last night (the one last week was a big flop) and I'd rather be working on that.

And I haven't watched anything new lately that I'm prepared to comment on – although I will say that I enjoyed the episode of "Psych" that we watched last night.

But then I always enjoy "Psych" and totally interject obscure 80s references in everything I say too.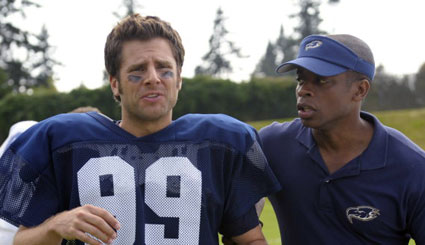 "On Any Given Friday Night at 10pm, 9pm Central"
I did have a successful go at the 5 minute fiction contest this week, snatching first of everybody instead of first of the losers during double-dog-dare overtime tie breaker voting.

This was the first week I wrote using a word processor instead of the text editor and even though I use a word processor every day, it was different from my routine and I found it incredibly distracting.
I am expecting my 2014 Writer's Market Guide in the post this afternoon.

I have 9 stories out for consideration.

2 of them in markets that I have aspired to but never submitted because they are the top of the heap (if you don't count fickle markets like "The New Yorker" and "The Atlantic") --

Analog and Glimmer Train.

I always used to think I needed to work my way up to them.

I've decided instead to work my way down.